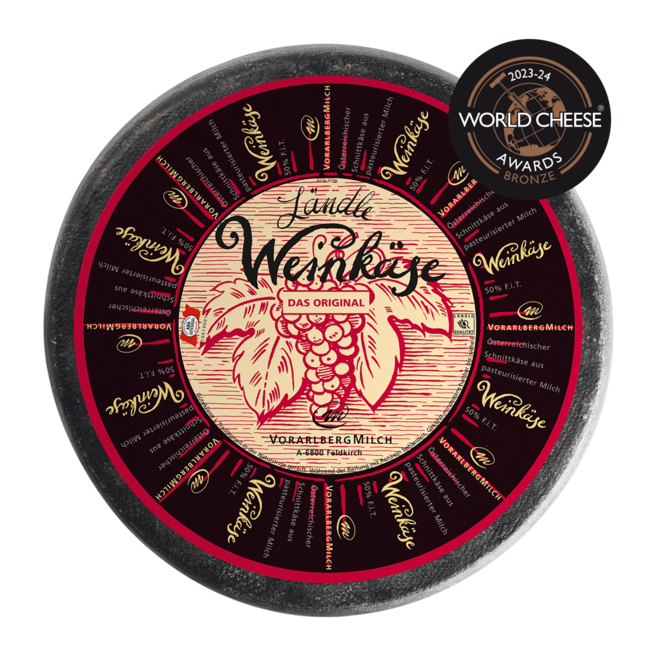 Ländle Weinkäse
Treated with origin red wine.
Ländle Weinkäse "The Original" is unique, both in appearance and taste, and therefore an eye-catcher on every cheese counter. Ländle Weinkäse is made from the best fresh Alpine milk and matured and cared for in the traditional artisanal manner. During a 4-month maturation period in a natural cellar, it is cured with red wine at least 2 times a week.

This gives the cheese its characteristic dark red, almost black natural rind. Ländle Weinkäse exhibits a slightly sweet and fruity, harmonious note and impresses with its seductive sensation on the mouth. The cheese is characterized by its smooth, firm consistency and derives its distinctive character through aromas of buttermilk, yoghurt, dried fruits and hints of malt.


Ingredients
Characteristics:
Raw material: Ländle milk, pasteurised, non-GMO
Maturation period: approx. 3 months
Cheese rind: dark, nearly black rind
Special feature: treated with red wine by hand weekly
Cheese colour/holes: straw- to peach-yellow; occasional pea-sized holes
Cheese texture/flavour: smooth and compact; reminiscent of buttermilk, yogurt and dried fruit
Fat i.d.m.: Semi-hard cheese, 50% fat i.d.m.