Ländle Rahmkäse
Mild and fine.
Ländle Rahmkäse is made from the best fresh hay milk and matured and cultivated using traditional craftsmanship methods. Ländle Rahmkäse matures for 5 weeks in the natural cellar.

The fine buttery taste of Ländle Rahmkäse caresses the nose with its pleasant lemon aroma. The dough is characterised by its soft, creamy consistency. It melts and flows on the palate, leaving behind a fine buttermilk flavour.

Ingredients
Characteristics:
Raw material: Ländle hay milk, pasteurised, non-GMO
Maturation period: approx. 6 weeks
Cheese rind: washed natural rind
Cheese colour/holes: buttery yellow; pea-sized holes
Cheese texture/flavour: mild and fine; tastes of buttermilk, light lemony aroma
Fat i.d.m.: Semi-hard cheese, 55% fat i.d.m.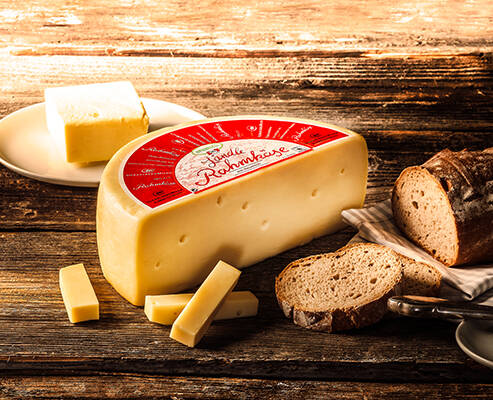 The best flavour comes from pure hay milk
Farmer Peter Jochum from Lech am Arlberg specialises in producing hay milk – the basis for our fine Ländle Rahmkäse.