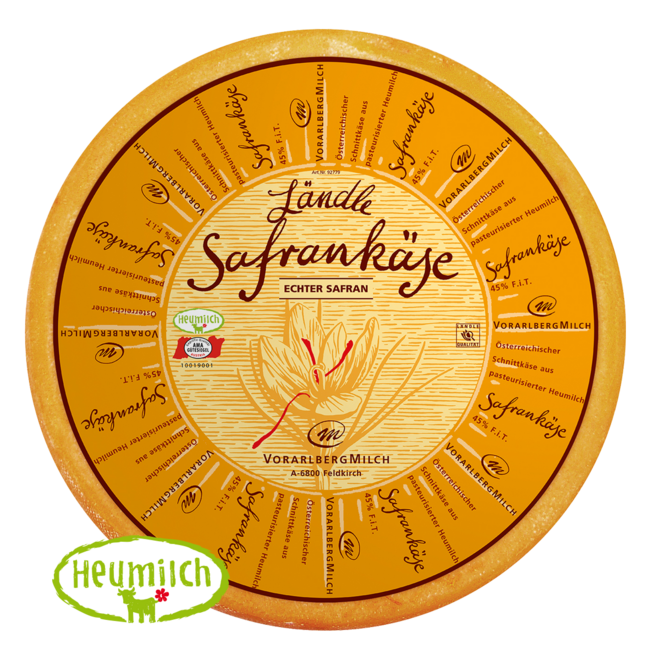 Ländle Safrankäse
With genuine saffron.
Ländle Safrankäse provides cheese delight at the highest level and is refined with saffron. Ländle Safrankäse is made from the best fresh hay milk and matured and cared for in the traditional artisanal manner. During a 2-month maturation period in a natural cellar and by treating the rind with saffron water, the cheese and rind obtain their intense yellow colour.

Finest saffron fragrance flows into the nose, followed by hints of butter and flower meadow. On the palate, the cheese feels firm and creamy. The saffron is unmistakeably present and gives the Ländle Safrankäse its unique and distinctive touch.

Ingredients
Characteristics:
Raw material: Ländle hay milk, pasteurised, non-GMO
Maturation period: approx. 2 months
Cheese rind: yellow natural rind
Cheese colour/holes: mango orange, refined with real saffron threads
Cheese texture/flavour: smooth and creamy; butter and flowering fields, sour cream, typical saffron flavour
Fat i.d.m.: Semi-hard cheese, 45% fat i.d.m.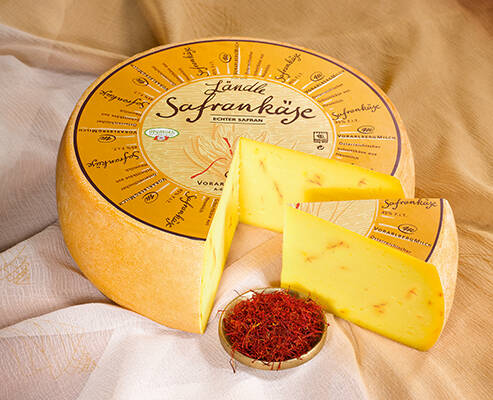 Saffron meets top-quality hay milk
Saffron is known as the "red gold" among spices. When added to our Ländle hay milk, it's the perfect combination for top-quality cheese.