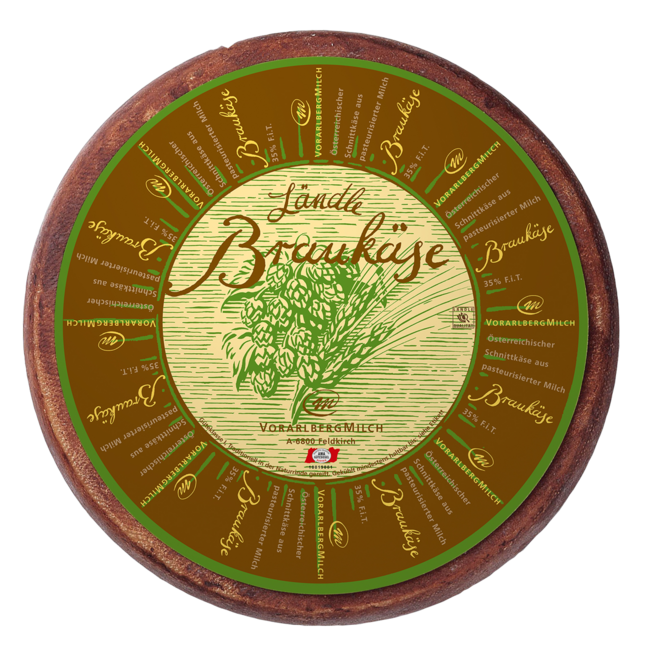 Ländle Braukäse
Less fat (19% fat absoluty).
The Ländle Braukäse impresses with its versatility. The low-fat (only 18% absolute fat) Ländle Braukäse is made from the best fresh Alpine milk and matured and cared for in the traditional artisanal manner. During a 3-month maturation period in a natural cellar, it is cured with beer malt at least 2 times a week, which gives the cheese its characteristic brownish rind.

The rind smells distinctly of malt, while the cheese itself exhibits subtle flavours such as malt, cream, butter milk and citrus fruits. The elastic-crumbly nature of the cheese reveals light salty notes

Ingredients
Characteristics:
Raw material: Ländle milk, pasteurised, non-GMO
Maturation period: approx. 2 months
Cheese rind: brownish natural rind
Cheese colour/holes: buttery yellow; slit-shaped holes
Cheese texture/flavour: elastic and crumbly; malt, cream, buttermilk
Fat i.d.m.: Semi-hard cheese, 35% fat i.d.m.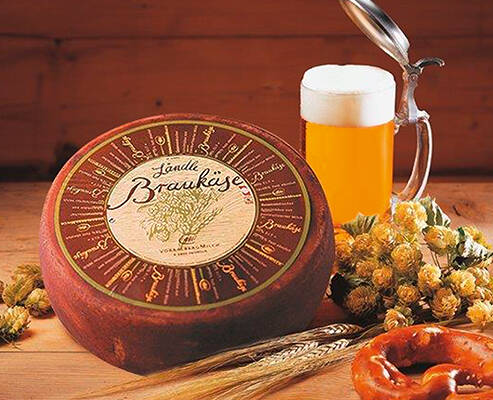 Beer meets top-quality Alpine milk
There's nothing like taking a break with a cool, refreshing beer. That's why we added premium-grade malt to our delicious Ländle milk. It's the perfect combination for top-quality cheese.