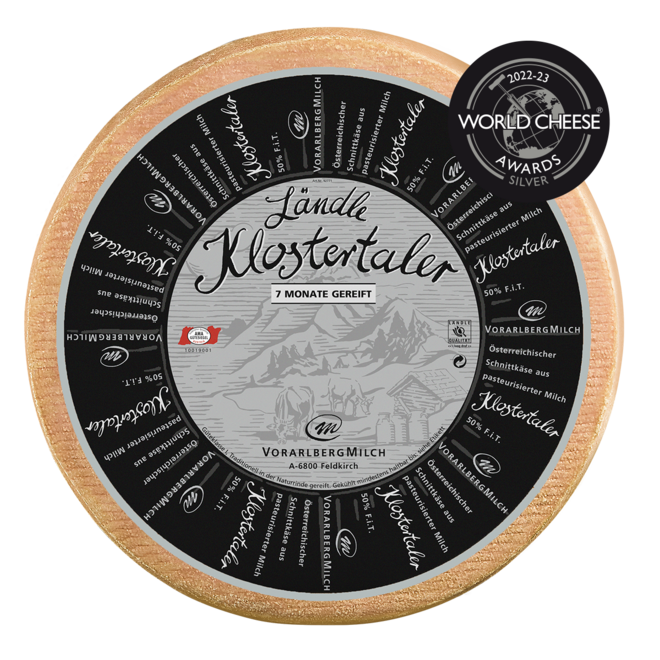 Ländle Klostertaler
Spicy and full flavoured in taste.
The distinctive Ländle Klostertaler provides the highest delight for cheese lovers. Klostertal is an alpine valley in Vorarlberg and extends from Bludenz over approximately 30 km to Arlberg. Ländle Klostertaler is made from the best fresh Alpine milk and matured and cared for in the traditional artisanal manner.

During a 7 months maturation period in a natural cellar, it unfolds its elegant spiciness. The fragrance combines fruity aromas such as pineapple and passion fruit with malt and dark caramel. The cheese decorades the palate with its full-bodied, moist and creamy texture.

awarded with World Cheese Award 2022/23

Ingredients
Characteristics:
Raw material: Ländle milk, pasteurised, non-GMO
Maturing period: 7 months
Cheese rind: brownish natural rind
Cheese colour/holes: buttery yellow; pea-sized holes
Cheese texture/flavour: strong and tangy; malt and dark caramel, toasted aroma
Fat i.d.m.: Semi-hard cheese, 50% fat i.d.m.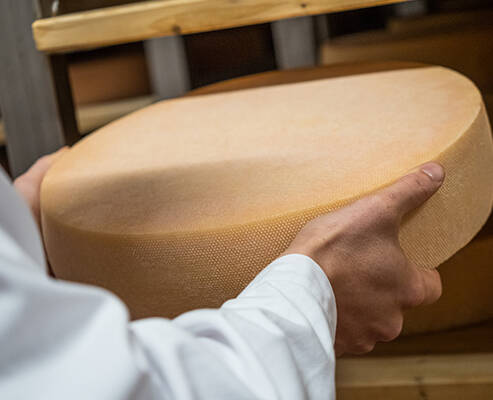 Top quality starts with the milk.
Lush, green mountain pastures: they're the reason our cheese is so special. Because the Ländle dairy cows are especially content high up in the mountain pastures.