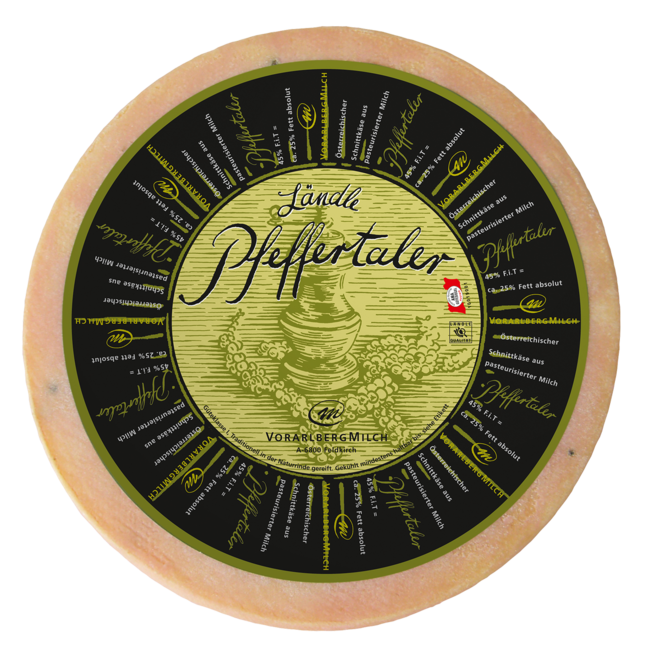 Ländle Pfeffertaler
With Madagaskar pepper.
The name says it all: Ländle Pfeffertaler - peppery note. Ländle Pfeffertaler is made from the best fresh Alpine milk and matured and cared for in the traditional artisanal manner. Ländle Pfeffertaler is topped with exquisite green Madagascar pepper and receives its slightly peppery flavour during a 3-month maturation process in a natural cellar.

Flowering meadow and herbs as well as milky, creamy notes are playfully enhanced with peppery notes. The firm cheese opens up to a variety of flavours from sour cream and hazelnut to malt components - surrounded by a hearty pepper seasoning. This cheese speciality is both taste-wise and visually a valuable addition to every cheese counter.

Ingredients
Characteristics:
Raw material: Ländle milk, pasteurised, non-GMO
Maturation period: approx. 3 months
Cheese rind: light brown natural rind
Cheese colour/holes: buttery yellow; pea-sized holes
Cheese texture/flavour: compact; peppery note
Fat i.d.m.: Semi-hard cheese, 45% fat i.d.m.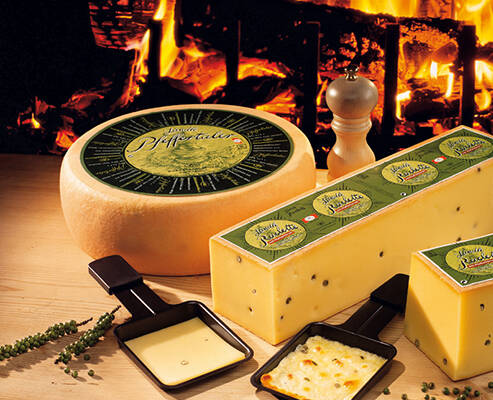 May we introduce: Heidi the cow
High up in Vorarlberg's mountain pastures, every cow has a name. Here, they graze in lush, green mountain meadows. And that's precisely what makes our cheese so special.