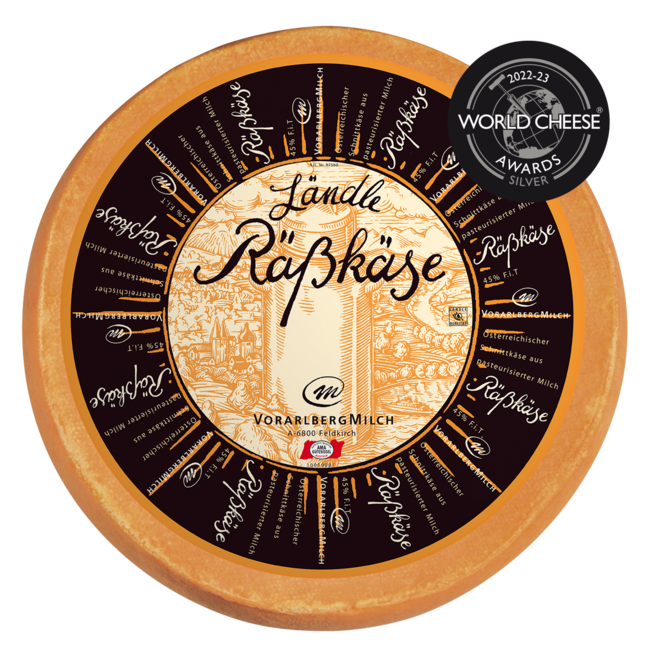 Ländle Räßkäse
Matured for a long time.
Originally called "Räßkäse" - "Räß", here in Vorarlberg, means matured for a long time, strong, tangy and spicy flavour. Ländle Räßkäse is made from the best fresh Alpine milk and matured and cared for in the traditional artisanal manner. It receives its unique touch through special and intensive care. During a 5-month maturation in natural cellar, it unfolds its prominent aroma of malt, roasted onions, cream and peanut.

On the palate, this impression is solidified through notes of malt, salted peanut as well as cream and dried fruit. The cheese itself melts delicately and evenly in your mouth and thus becomes an elegant counterpoint. Ländle Aromatic Cheese is an important ingredient in the famous "Kässpätzle" cheese noodles and is therefore an essential carrier of flavour.

awarded with World Cheese Award 2022/23

Ingredients
Characteristics:
Raw material: Ländle milk, pasteurised, non-GMO
Maturation period: approx. 5 months
Cheese rind: brown natural rind
Cheese colour/holes: peach-yellow; pea-sized holes
Cheese texture/flavour: soft and melty; strong, tangy
Fat i.d.m.: Semi-hard cheese, 45% fat i.d.m.