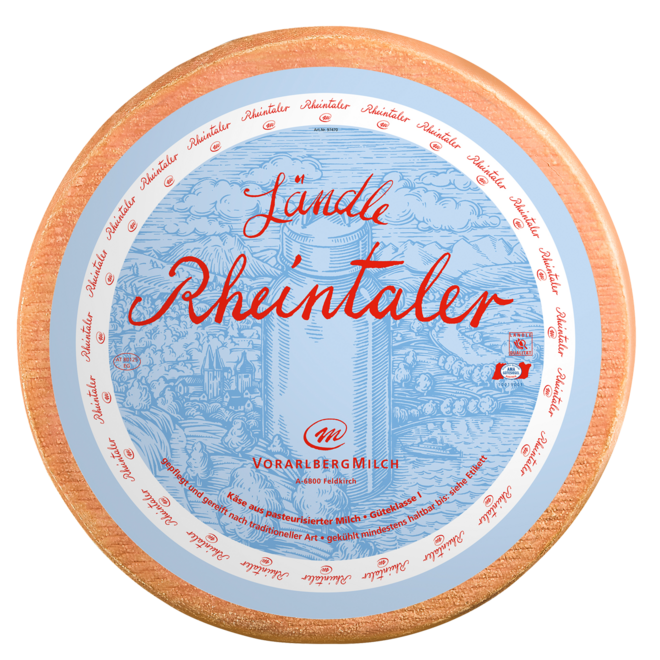 Ländle Rheintaler
A cheese with tradition.
The name of the Ländle Rheintaler indicates its origin in Rheintal ("Rhine Valley"). Ländle Rheintaler is made from the best fresh Alpine milk and matured and cared for in the traditional artisanal manner. It matures for at least 4 months in natural cellars.

It's easy to lose yourself in its aroma of citruses, cream, malt and honey. Equally intriguing is the way it feels on the mouth, with a smooth, juicy and pleasant texture, as well as aromas of toasted white bread and caramel.

Ingredients
Characteristics:
Raw material: Ländle milk, pasteurised, non-GMO
Maturation period: approx. 4 months
Cheese rind: brownish natural rind
Cheese colour/holes: peach-yellow; pea-sized holes
Cheese texture/flavour: compact; citrus, cream, malt and honey
Fat i.d.m.: Semi-hard cheese, 50% fat i.d.m.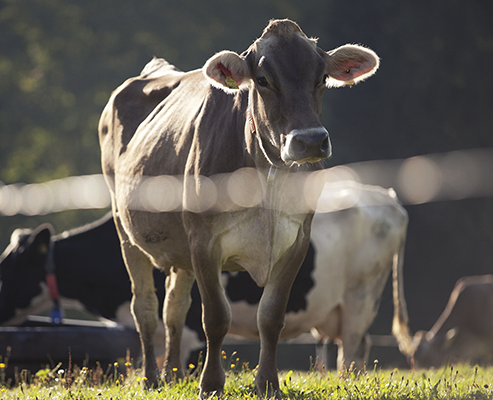 Top-quality Alpine milk from the slopes of the Pfänder
Hubert and his son run the Mooshof farm on the slopes of the Pfänder. Here, at 1,000 metres above sea level, with a one-of-a-kind view over Lake Constance and the tripoint where Austria, Germany and Switzerland meet, the freshest Alpine milk is produced.